In June 2017, the KIT again received the "Family-friendly university" audit certificate by the Federal Ministry for Family Affairs, Senior Citizens, Woman and Youth as well as the Federal Ministry for Economic Affairs and Energy. On behalf of the KIT, Biserka Mathes (deputy equal opportunities officer) was handed over the certificate in Berlin. The KIT is one of 350 employers who were granted the certificate this year.
It is already the third time KIT received the certificate. The current certificate is valid until May 2020. In the course of the audit, KIT as an employer and a university deliberately decided to keep on supporting families and different life concepts. For this purpose, several measures to support employees or students to combine family and work/studies have been reviewed or implemented. For example, childcare, the availability of information, and conditions of studying have been improved. Since 2015, all relevant information in this context has been available on the KIT homepage (Family Portal).
Among future planned improvements will be the implementation of family-friendly meeting/exam dates and teleworking as well as enhanced communication.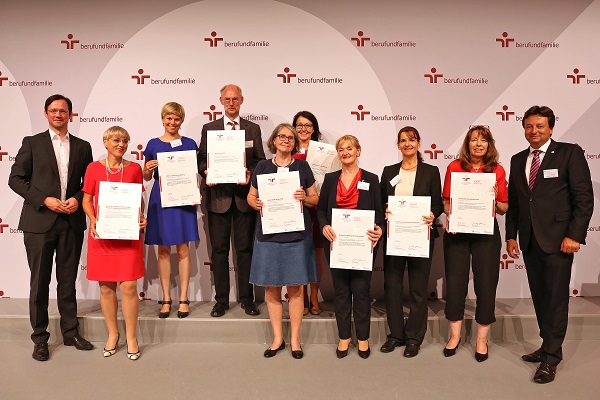 Third certification: Biserka Mathes, deputy equal opportunities officer (fourth from the right), was handed over the certificate. (picture: Thomas Ruddies, berufundfamilie gGmbH)