campaign "Kind & Campus: So geht's!"
KIT supports students with a family of their own.
To increase support of students with families in future, this project group was established within the framework of the Karlsruhe Alliance for Families (Karlsruher Bündnis für Familie). The campaign mainly focuses on public relations and is to present options for balancing childcare and studies and to increase the respective awareness. New postcards and posters distributed on the campuses of the partner universities as well as special lunchboxes for students with a child inform students about the advice and support services. In addition, topic-specific events are organized at the universities. More information on the campaign may be obtained here. To have a look at the lunchbox, click here.
***There are still lunchboxes available***
"Studying with family" - information stand in the canteen | 05/04/2022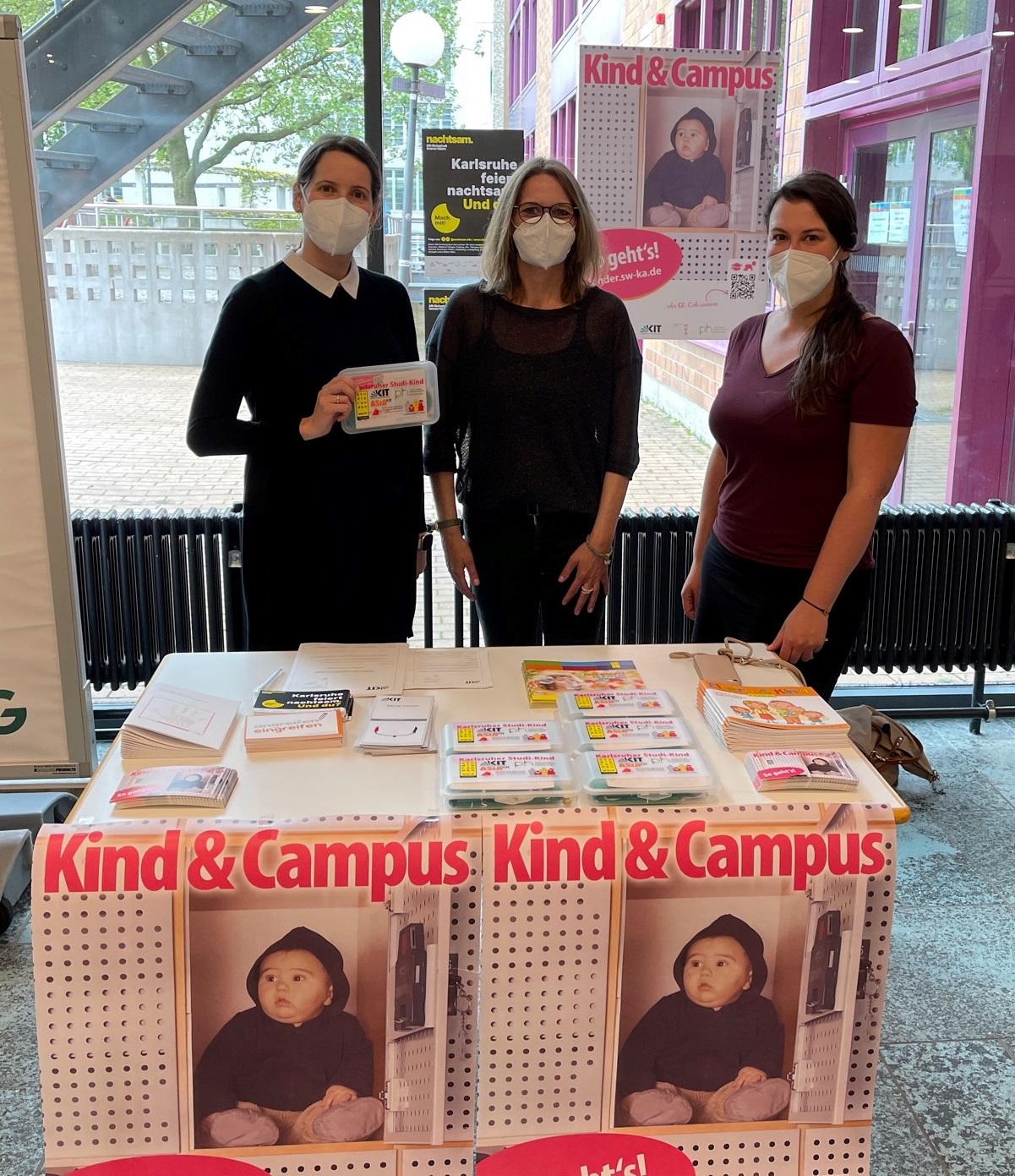 On May 4th, 2022, from 12:00 p.m. to 1:00 p.m., in the foyer of the canteen at the Karlsruhe Institute of Technology (KIT), the project group "Studying with a family" provided information about offers for students with children and about the possibility of networking at the students with families.
In addition to representatives of the Office for Equal Opportunities at KIT, representatives of the University of Education (PH), the University of Applied Sciences Karlsruhe (HKA) and the Studierendenwerk Karlsruhe were gathered at the information stand to exchange ideas with the students on the topic of "Compatibility of family and studies". At the information stand, student parents also had the opportunity to pick up a "Studi-Kind-Box" free of charge - a colorful bread box with giveaways that children of students can take with them to kindergarten, daycare or school, thereby increasing the visibility of student parents. There was also the opportunity to register for the newsletter "Students with families at KIT", which the Office for Equal Opportunities publishes about twice a year, in order to report on interesting information events or to draw attention to helpful offers, such as "First Aid for Children". close.
The event in the canteen was well attended and will also be offered to all students at other universities in Karlsruhe at regular intervals.
SW-SL-KIT-2022.05.05
3rd Kind & Campus - meeting
Student parents in Karlsruhe are cordially invited to participate in the 3rd Kind & Campus meeting of the campaign "Kind & Campus: So geht's!" The event will take place on 12.11.2020 from 16.00 to 17.00 o'clock in digital form. Students with children will be informed about offers of the Studierendenwerk Karlsruhe, will have the opportunity to ask questions and to exchange and network with each other. Registration for the event is possible until 10.11.2020 at https://form.jotform.com/202791006028347 , the link to the dial-in will be sent to registered participants in advance. Here you will find further information.